Texas Recap
I covered the Texas recap two weeks ago so let's keeping it moving right along to the Bristol preview…
Bristol Preview
Fresh off the annual Easter holiday bye week, the circuit heads to Bristol Motor Speedway for the Food City 500 Sunday at 2pm.  This is the second short track of the season and some folks mistakenly lump all short tracks together but Bristol and Martinsville couldn't be more different.  Martinsville is a flat, slow, plodding track whereas Bristol has steeper banking which allows the drivers to carry more speed around the .533 mile oval.  Bristol is a 500 lap race so if you've been following along so far this year and absorbing some of the knowledge bombs I've been dropping then you've probably already inferred that we will want drivers who have a chance to gobble up the plethora of "fast points" this week (laps led and fastest lap points).  My model shows 66.83% of the laps led over the past 8 races at Bristol have come from drivers starting inside the top 5, and 51.78% from the top 3 starting positions.  Per the usual, we want 2 or 3 drivers starting up here that have the balance of track history and decent practice speeds.  Once again qualifying was rained out so starting positions this week will be set according to the season long points standings.
Top Tier (over $9,000)
Kyle Busch is the most expensive driver this week at $10,600.  He has a bit of a love/hate relationship with Bristol (when he wins he loves it, when he crashes out he proceeds to critique the track and says how awful it is).  Kyle is starting 7th and dominated the practice sessions clocking a 2nd, 1st, and 1st during the three sessions.  He's starting a little worse than we'd like as it may take him some time to work his way up to the front but if he gets there you will regret not having at least some shares in gpps.
Kyle Larson is starting on the pole and has been terrific this season.  I made the mistake of playing Larson on the pole at Martinsville where he failed to show the speed and ultimately fell into the mid-teens finish.  I will likely be underweight on Larson this week until he shows me more consistency on the shorter tracks.
Martin Truex Jr. often gets the Kyle Larson treatment as being labeled as a "mile and a half" specialist but I think I'm pulling the trigger on some Truex shares this week.  He's starting 3rd and averaged 6.7 over the three practice sessions.  He's checking in as the number 2 play in my model this week.
Chase Elliott is the real deal.  He just seems to get better every race, regardless of the track.  He will be starting 2nd this week and showed enough practice speed to challenge Truex and Kyle Busch for the "fast points" most of the day.  He's the top projected scorer in the model this week.
Matt Kenseth is starting 22nd and he's the only driver over $9,000 starting worse than 11th.  He also has the 2nd highest driver rating, with a 103.0 to Kevin Harvick's 107.8, over the past 8 races here.  He should be a lock for place differential this week.
I also like Logano and Harvick this week and I will likely be fading Jimmie and Keslowski based a combination of salary, track history, and practice times.  There's just more solid options at the top this week IMO.
Mid Tier ($8,900-$7,000)
Ricky Stenhouse Jr. somehow manages to run well at Bristol; it's honestly quite baffling.  He has 3 top 6 finishes in the last 6 races here.  He will be starting 19th but didn't show much in practice with a 22.0 average across the three practices.
I think I'm targeting Kasey Kahne, starting 17th, and Erik Jones, starting 14th, in the mid-tier this week.  Jones was second only to Kyle Busch in terms of pure speed in the 3 practice sessions with 1st, 2nd, 6th.  Kahne was similarly impressive in practice with 13th, 6th, 3rd.  In order to win cash games or cash in gpps, we need to envision our drivers scoring top 10 scores and I think both of these drivers could finish inside the top 10 this week and accrue enough points to be on a winning gpp lineup.
Bottom Tier ($6,900 and under)
Given that the starting positions were set according to season long points standings, the drivers all starting in the back are the drivers priced in the bottom tier.  We don't have the Texas situation where we had elite drivers starting in the 30s.  There's not a ton I like down here but AJ Allmendinger and Paul Menard will be my semi-punt option this week in cash games with a sprinkling of Landon Cassill in gpps
 "Sgrignoli's Strategery"
Bristol is one of my favorite tracks (especially the August night race) and it can sometimes be as chaotic as the plate tracks.  It's a tiny track where drivers are carrying speed through the turns.  The lapped traffic can get to be a mess fairly quickly and oftentimes you're left praying all six of your drivers make it to the checkers.  I will likely be splitting some cash and gpp action this week.  Here an example of a lineup I like this week in either format: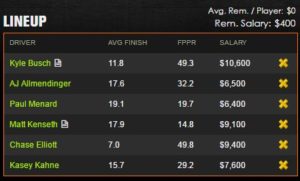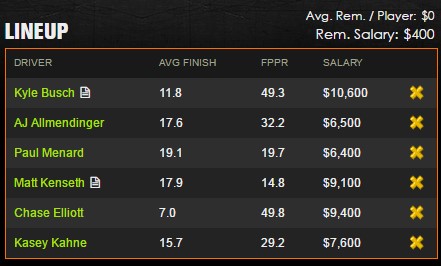 I'll swap in some of the aforementioned Truex, Jones, Cassill, etc. in gpps.  If I don't take down a gpp this week hopefully one of you do.
Good luck this week PAS-Holes and I'll see you in the winner's circle.
Comments
comments