Bristol Recap and Richmond Preview
Jimmie Johnson did what Jimmie Johnson does…he hung back, never really dominated, and somehow we all blinked and he claimed his 2nd consecutive checkered flag.  Kyle Larson again showed phenomenal speed, leading the first 202 laps.  I wasn't overly keen on Larson in last week's article but I'm sold on just locking in the pole sitter for these short tracks as the clean air up front has been so important and ultimately yield those fast points we need to take down gpps and our cash games.
Richmond Preview
Race 9 is Sunday at 2:00pm at Richmond International Raceway for the Toyota Owners 400.  Richmond is a bit of an oddball track as it's a .75 mile D-shaped oval.  It fits into our "Flat Tracks" grouping alongside Indy, New Hampshire, Pocono, Phoenix, and Martinsville.  Over the last 8 races at Richmond the pole sitter has led 29.33% of the total laps which is the highest percentage we've seen so far in the model; the top 3 account for 61.66%.  With 400 laps, we're going to continue to focus on 1-2 guys up front to gobble up those "fast points," a few guys in the middle who we project to challenge for a top 10 and claim significant place differential points, and a driver or two in the rear solely as a punt play.
Top Tier (over $9,000)
Logano, Harvick, and Kyle Busch are starting 5, 6, and 7 this week.  They are all projected to finish inside the top 5 in my model this week, but given the aforementioned lap leaders typically crushing from inside the top 3 positions I won't have heavy exposure to these guys.
Jimmie and Kyle Larson are starting 17 and 18 this week.  These are the place differential plays for me in the top tier.  If these guys both finish inside the top 5 this week I wouldn't be surprised at all.  They are starting back far enough that they might not lead a ton of laps, but the place differential is all but assured for these two horses.
Denny Hamlin is starting 16th and had the 3rd best practice times this weekend.  With a 94.3 driver rating over the last 8 races here, Hamlin is projecting as a top 10 finisher this week at only $9,300.
So Taylor who in the top tier can lead laps this week you ask?  Gimme some Martin Truex Jr. at $9,100.  He has the 2nd highest driver rating on the season at 110.6 trailing only Larson's 114.2 rating.  Oh and Truex Jr. went 1, 5, 2 during the three practice sessions.  I'm locking in Truex Jr. in cash and gpps this week.
Mid Tier ($8,900-$7,000)
Since I said we're going to focus on the pole sitter, we need to examine this week's pole sitter Matt Kenseth.  Honestly, the dude has struggled to start the year.  Last week's qualifying rain out started him 22nd, but he battled his way up to a 4th place finish.  In the fall 2015 race Kenseth was on the pole and led a whopping 352 laps…that's good folks.  I won't predict quite that many for him this week, but if he can reel off 60-100 laps or so he's worth the $8,800 spend.
Ryan Blaney is starting in the 2 hole and wrecked cats at Texas starting in the same position (he lead me to my best week of the season as well).  But I'm going to fade Blaney and maybe toss him in a lineup or two just to CYA…
The reasons I'm fading Blaney are Erik Jones starting 20th and Austin Dillon starting 38th.  Jones was fast at Bristol and seemed to be in the hunt for the first ¾ of the race before falling back towards the end.  Remember how fast Truex Jr. was in practice this week?  Well Jones was the only guy faster with 2, 1, 4 during the three practice runs.  I think he finishes inside the top 10 this week and at $8,100 I'm locking him in.  Austin Dillon failed inspections last week and was forced to start at the rear of the field this week.  Look, I'm not a Dillon fan per say but he's significantly better than the drivers we typically see starting dead last.  So long as he doesn't force the issue, which isn't a given with him, he should work his way in the early 20's and payoff the $7,400 price tag with ease.
Bottom Tier ($6,900 and under)
Two drivers for me here this week, Trevor Bayne starting 29th and Paul Menard starting 26th.  Bayne's practice average was 12.0 and Menard's was 12.3.  These are my cash plays in this tier.  I will also allow gpp ownership of Cassill, McDowell, and Whitt starting 28th, 27th, and 36th respectively.  These three are all under $5,600 and can help you jam in some more of those top tier options for tournaments.
 "Sgrignoli's Strategery"
I mentioned a few locks I liked particularly in cash games this week.  I might roll something similar to this out in cash.  I might split cash and gpps fairly evenly this week.  It's scary not having either Larson or Jimmie in this lineup but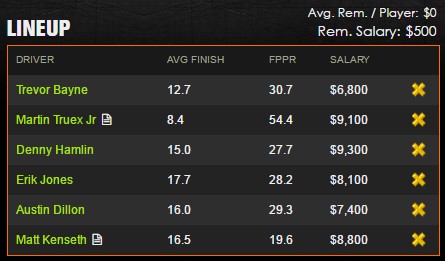 In gpps I will swap in some of the punt guys in order to squeeze in the $10,000+ guys.
Good luck this week PAS-Holes and I'll see you in the winner's circle.
-Taylor Sgrignoli
Comments
comments