Fontana Auto Club Speedway DFS Preview
My apologies for ghosting everyone the past few weeks, life and family happen but I'm back so let's get to it!
Phoenix Recap
Joey Logano was on the pole and led most of the early part of the race until a speeding penalty on pit road cost him track position.  Kyle Busch was the dominant car for most of the latter half of the race until a late race caution caused by his "buddy" Logano forced a restart in which Ryan Newman elected to stay out on older tires and held off Kyle Larson for his first win in seemingly forever.  Larson, who appears to be about 4'8" tall, captured his 3rd consecutive 2nd place finish and took over the season points lead in the process.
Fontana Preview
This week we head to Fontana, California for the Auto Club 400 Sunday at 3:30pm EST.  The Auto Club Speedway is a two mile D-shaped oval.  There are only 200 laps this week meaning we're going to focus on place differential as our primary source of points.  There's also a lower correlation between laps led and fastest laps this week which also devalues targeting the expensive drivers start towards the front.  Certainly we want to peg the driver who is going to gobble up most of the "fast points" but jamming in several guys starting towards the front is taking on too much risk.  In DraftKings gpps my lineups will be targeting one driver, possibly two drivers, who I think can accrue the fast points and selecting the rest of the squad with a focus on place differential.
Top Tier (over $9,000)
Joey Logano/Jimmie Johnson – These two are starting 35th and 37th respectively after not electing to run qualifying laps.  You rarely get top flight drivers starting this far back in the field and both drivers are projected to climb 24ish positions in my model meaning huge differential points.
Kyle Larson is on the pole and is coming off a win last fall in the similarly shaped and sized Michigan International Speedway.  He's hungry to get into that winner's circle after seeing taillights the last three races finishing second (OK, they are stickers not actually taillights).  I think this could be Larson's week to finally capture the checkers.  He will have the first pit stall and the past few Fontana races have seen late race cautions so the lead pit stall could be huge for the miniature sized 42 driver.
I really have no issues with anyone over $9,000.  All drivers either qualified poorly enough you essentially have to lock them into your lineups (Logano and Johnson) or qualified near the front and showed good speeds in practices.  I expect Larson, Keslowski (starting 3rd), Truex (4th), Harvick (7th), and Kyle Busch (9th) to battle for the lead most of the day.  Chase Elliott has maybe the most upside of this upper echelon as he's starting 13th and was 2nd and 1st fastest in the final two practices.  He's been dynamite on the two mile tracks in his short career.
Mid Tier ($8,900-$7,000)
For me there's really only two guys here I'm targeting, Ryan Blaney and Trevor Bayne.  First, Blaney has shown good speed most of the year so far and is starting 19th and could contend for a top ten by the end of the day.  Trevor Bayne is starting 36th and his practice average was 21.3 over the three practice sessions.  He's finished inside the top 20 each races so far this season and he could challenge that again this week and is pretty much a lock for me in any format.
Hamlin is an interesting pivot off of the top tier drivers in gpps.  He's starting 2nd and has decent track history here but showed sub-par speeds in practices.  I'd reserve him for gpps only and wouldn't touch him in cash games.
Bottom Tier ($6,900 and under)
I'm a sucker for Aric Almirola.  He somehow seems to sneak into my lineup most weeks.  He's starting 31st this week and he practice average was 17.0 over the three practice sessions.  He's picked up 11 and 16 differential points the past two weeks and I think he's in line for much of the same this week.
Tentative Cash Lineup – I love Logano, Johnson, Bayne, and Almirola this week.  I just need to figure out how I want to round out the last two roster spots.  I'm leaning toward Larson and anyone else who fits like Menard/Allmendinger/Ty Dillon, basically anyone who won't kill you.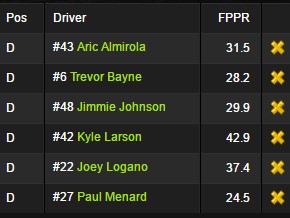 Good luck this week PAS-Holes and I'll see you in the winner's circle.
Comments
comments