Is UFC losing its mainstream audience? Did the Fertitta brothers see this coming?
It's no secret by now that a large portion, 80% to be exact, of UFC was sold off last year to WME-IMG by Lorenzo and Frank Fertitta. Dana White owned about 9% of UFC, but he decided to stick around as the UFC president and ride the lightning. The question is why? Why to both. Why did Zuffa, the parent company owned by the Fertitta brothers decide to sell? Why did Dana White decide to stay?
I started thinking about what the UFC endured over the last few years and it leads me to believe that maybe the mainstream stay of what is UFC may be coming to an end. Now, before all you die hard UFC lovers out there get all amped up at me for thinking this, I want to be clear I am not speaking about you. I am speaking about the "occasional" fan and viewer that UFC has been able to draw in over the last 10 years. I'm talking about the people that don't know guys like Joseph Benavidez, John Lineker or Yoel Romero.
The "occasional" fan know fighters like Ronda Rousey, Brock Lesnar, Anderson Silva, and Conor McGregor. These are the fighters who made UFC a household name for fans that really never knew that UFC or mixed martial arts existed as a Pay per View caliber event. But what happens now that Rousey is no longer the "Baddest Women on the Planet"? Conor McGregor is so bored of beating up people in his weight class, technically two weight classes, he is looking to fight outside of the octagon against Floyd Mayweather. Let's be honest this probably won't happen, but if it did nothing good could of it for UFC.
I remember a day when Anderson "Spider" Silva and Georges St-Pierre couldn't be beat. Besides death and taxes, these two, winning fights was the only other guarantee in life. Now Anderson can barely make an undercard and GSP has been retired for over 3 years.
The numbers do not lie. The PPV buys are astronomical when one of the aforementioned "Mainstream" fighters are highlighting the event, but basically nonexistent when some of the "lesser know" fighters main event.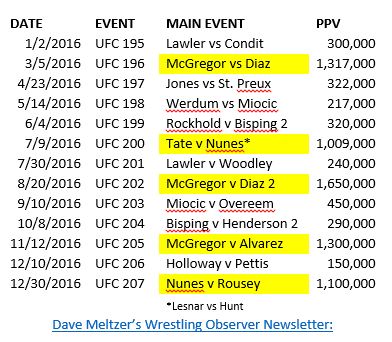 I go back to my earlier question, with the Silva, Rousey, and McGregor losing their unbeatable type status and GSP walking away from the sport way too early, is it possible UFC is on the down swing as a mainstream cash cow and the Fertitta brothers saw this coming. Is it possible Dana White is just as noble as the captain on the Titanic and he is willing to go down with the ship? Is that why he stayed? Does he believe that the talent is still littering this roster can continue to pull Pay per View and gate money to keep this organization worth the $4 billion that was spent on it?
-Lipko
Comments
comments